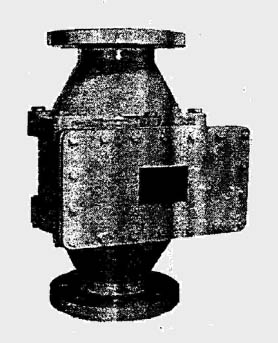 During the tank filling, the breathing valve expel over the tank some gas that could burn. The tank has to be protected to avoid
that the flames spread inside the tank. This is the reason why a flame stopper is installed between the tank and the breathing valve and it has to:
- Defeat the flame
- Resist and make the hot fade away
- Resist to the shock wave producer by an external explosion.
The flame arrestor efficiency is reduced by the flame arrestor element and by the filth that is inside it.Considering all these things Douglas produce flame arrestor element only in S.S. 316 and is easy to disassemble for a frequent maintenance.
The flame stoppers Douglas set. 400.1 is built with cast body and there are many different type as:
FIG. 401.1
Standard flame arrestor from 2" to 12" used for the breating valve assembly or free breeth.
FIG. 402.1
Box flame arrestor from 2" to 6" is used for the assembly of breath valve with convoyed breeth or on the final part of pipe. The flame arrestor element can be slipped removing the cover from the box on the arrestor. The flame arrestor Douglas set. 402.2 are built with welded body and are available made of the following material: